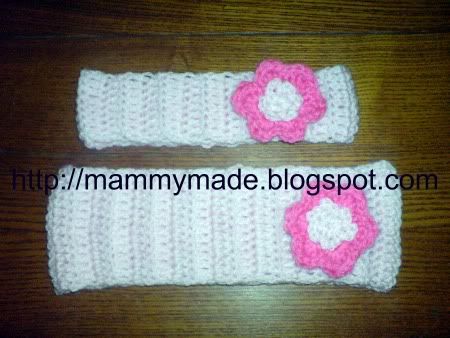 I made Leyla a headband earwarmer because she refuses to keep hats on but will happily wear a headband. It was so simple to make, I just chained 15, did one row of sc, then ch2, dc in back loops across for 33 rows. I just kept checking it around her head until it fit nice with a little bit of stretch. I added a row of sc right at the end then finished it off with slip stitches across both rows held together and weaved in the 2 ends :) I used a 4.5mm crochet hook and DK yarn.
I made a matching one for Mimie, just because I love matchy things :D I started off with 10 stitches instead of 15, did my row of sc, then dc in back loops only for about 27 rows, final row of sc then joined with slip stitches.
I then decided to make a flower to go on each, they looked a bit boring just plain and I wanted something to bling them up a bit. First I searched for a flower pattern but none of them were exactly what I wanted so I made my own. I'll add the pattern at the end of this post. I love how easy these are and how adaptable they are. They can fit anyone, just add rows or chains at the beginning and you can make it however you like :)
I dont have a picture of the babies wearing them because its late and theyre both sleeping away like babies :) I have absolutely no doubt theyll look majorly cute in them though.
Big flower -
Round1:
Make a magic ring, tutorial here, ch1 and do (sc into the ring, ch3) 6 times, finish with slst in 1st sc.
Round2: ch1, (sc, hdc, dc, hdc, sc) in each ch3 space around, join with slst in 1st sc.
Round3+4: ch1, sc in 1st st, work hdc, dc, hdc and sc in previous rounds stitches, continue around to end, join with slst in 1st sc. Bind off and weave in ends.
Small flower-
Use a different colour yarn and work round 1. Stitch the two flowers together through the middle and fix onto your headband. You could even put a button or something in the middle.